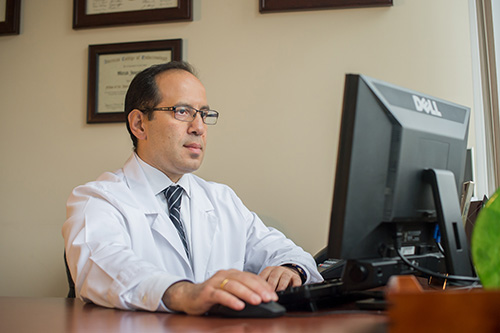 Our medical practice, located in Fair Lawn, New Jersey, is dedicated to healthy living. We deliver the highest quality patient care in an atmosphere of warmth, kindness and respect. Our caring staff welcomes children, adults and seniors. We utilize the latest technologies to help our patients. We are committed to provide the very best diabetes education.
Dr. Merab Joseph, a Board Certified Endocrinologist, is the founder and director of North Jersey Diabetes and Endocrinology. He is highly regarded as one of the best educators and clinical practitioners in the field of Endocrinology. He lectures and conducts seminars nationally on diabetes, thyroid and other endocrine disorders. With his extensive experience and dedication, Dr. Joseph is committed to providing the best care for his patients at our new state-of-the-art medical facility.
Dr. Joseph completed his Endocrinology fellowship at the State University of New York at Buffalo, NY. He served as a resident in Internal Medicine at Mount Sinai School of Medicine (Englewood Program).
Click here to read more about Dr. Joseph!
Our office in Fair Lawn is located at 24-07 A. Broadway, Fair Lawn, NJ 07410.