Dr. Merab Joseph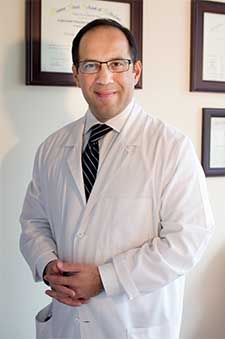 Dr. Merab Joseph, a Board Certified Endocrinologist, is the founder and director of North Jersey Diabetes and Endocrinology. He is highly regarded as one of the best educators and clinical practitioners in the field of Endocrinology. He lectures and conducts seminars nationally on diabetes, thyroid and other endocrine disorders. With his extensive experience and dedication, Dr. Joseph is committed to providing the best care for his patients at our new state-of-the-art medical facility.
Dr. Joseph completed his Endocrinology fellowship at the State University of New York at Buffalo, NY. He served as a resident in Internal Medicine at Mount Sinai School of Medicine (Englewood Program).
Dr. Joseph is a chief of Endocrinology Department at Palisades Medical Center, Columbia Presbyterian System. Dr. Joseph is an Endocrinologist at staff at Holy Name Medical Center.
Dr. Joseph was voted one of America's Top Physicians in 2009, 2010, 2011, 2012 & 2013 by the Consumer's Research Council of America. The doctor was also presented with Patient's Choice Award in 2008, 2009, 2010, 2011, 2012 & 2013. The Patient's Choice Award is based on online feedback provided by more than 40,000 patients every month. The Patient's Choice Award was presented to less than 5% of the nation's 720,000 active physicians, and Dr. Joseph is proud to be one of them.
Dr. Merab Joseph, provides comprehensive diagnosis and treatments for Type 1 and 2 diabetes, gestational diabetes, metabolic syndrome, insulin pump therapy, thyroid disorders, hypothyroidism, hyperthyroidism, thyroid cancer, osteoporosis and osteopenia, hypogonadism and erectile disorders, hypercalcemia, hyperparathyroidism, reproductive endocrinology. Our practice renders services to patients from the following areas: Cliffside Park, Fort Lee, Palisades Park, Edgewater, North Bergen, West New York, Union City, Ridgefield Park, Paramus, Hackensack, Secaucus, Ridgewood, Clifton, Passaic, Garfield, Fair Lawn, Elmwood Park, Parsippany, Paterson and other areas of New Jersey.
Dr. Merab Joseph's presentation at Englewood Hospital and Medical Center about Diabetes and it's effect on Cardiovascular outcomes.
*Click each image below for a larger view.